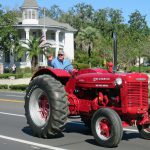 Farm City Week is celebrated all across America the week before Thanksgiving.  In Jackson County, the Chamber of Commerce, Farm Bureau, Cattlemen's Association, UF/IFAS Extension Service, and Farm Credit of Northwest Florida have teamed up once again to host the Farm City Festival November 18-19 in Marianna.  The Festival will feature two days of activities designed to honor the heritage and bounty of Jackson County agriculture.
Farm-City Awards Breakfast – Friday 7:00 to 9:00 AM
The Farm City Festival will begin with a breakfast at Rivertown Community Church in Marianna (4534 Lafayette Street aka. Hwy 90).  Farm Credit of Northwest Florida sponsors the breakfast that is provided at no charge to the public.  Participants are encouraged, however, to make donations of peanut butter for the Peanut Butter Challenge.  Registration and the serving of breakfast will begin at 6:30 AM, and the program will begin at 7:00 AM. There will be presentations from local 4-H clubs and FFA chapters, along with recognition of the Outstanding Farm Family, Peanut, Cotton, Corn, Tree, Hay, and Specialty Crop Farmers of the Year, as well as the Conservationist, and Cattleman of the Year.  Farm Bureau will also be recognizing farms through the "This Farm C.A.R.E.S." program.
Antique Tractor Drive – Friday 10:00 AM & 2:00 PM
Antique tractors will be offloaded at the Jackson County Agriculture Center, 3631 Highway 90 West, Marianna, Florida.  Registration will begin at 9:00 AM Central time, tractor lineup at 9:30, with the actual Tractor Drive leaving at 10:00 AM.  The first leg of the drive will be to travel 6.1 miles east to the Marianna Farmer's Market.  Drivers will create a static display at the Marianna Farmer's Market from 11:00 – 1:30.  At 2:00 PM the antique tractors will begin the return leg of their drive back to the Agriculture Center.
Farms, antique tractor collectors, 4-H clubs, FFA Chapters, and civic organizations are encouraged to participate in the drive.  Tractors must be 1986 or older models.  Wagons with club members can be pulled behind the tractors, but must have an adult chaperone in the wagon with youth, and an adult tractor driver.  Tractor drive participants are not required to participate in the tractor pull competition.
Lawn Mower Pull – Friday 6:00 PM
There will be a hot-rod lawn mower pull on Friday night starting at 6:00 PM, following the tractor drive, at the Jackson County Agriculture Center.
Antique Tractor Pull & Agricultural Festival – Saturday 9:00 AM – 3:00 PM
Antique tractors will compete by pulling a sled, based on tractor weight classes.  Tractor pull participants must be registered by 8:30 AM central time; a driver's meeting will be held at 8:45, with Opening Ceremonies taking place at 9:00.  The hooking fee is $ 10 per pull.  Trophies will be presented to the top three finishers in each class. Camp sites are available for Tractor Pull participants at the Ag Center for $ 20 per night.
30 food and craft vendors will be on hand selling their creations.  There will be multiple vendors with things for kids to do:  an inflatable bounce house, slide, and bucking bull, along with a pony ride, and a barrel train.  There will also be heritage and agricultural demonstrations:  a blacksmith, Chipola Beekeepers, Jackson County Cattlemen's association, and Florida Dairy Farmers.  All will be on the Ag Center grounds in the vicinity of the tractor pull, so this will be a fun event for the whole family.  This is a sponsored event, so admission is free.
 —-
Check out the highlights from last year's Farm City Festival
For more information about all of the 2016 Farm City Festival events, contact the Jackson County Chamber of Commerce:  850-482-8060.