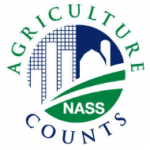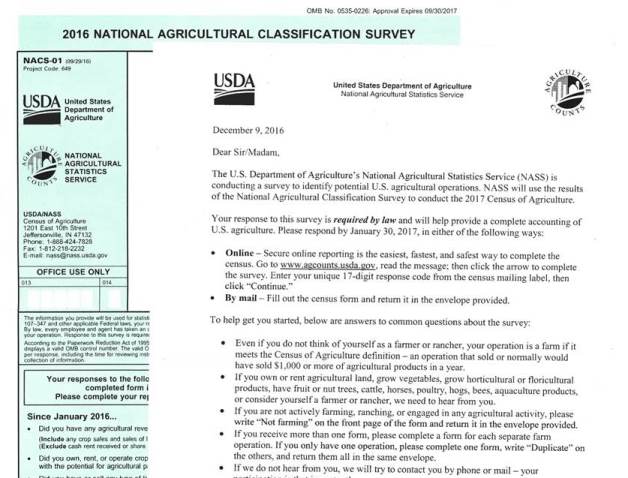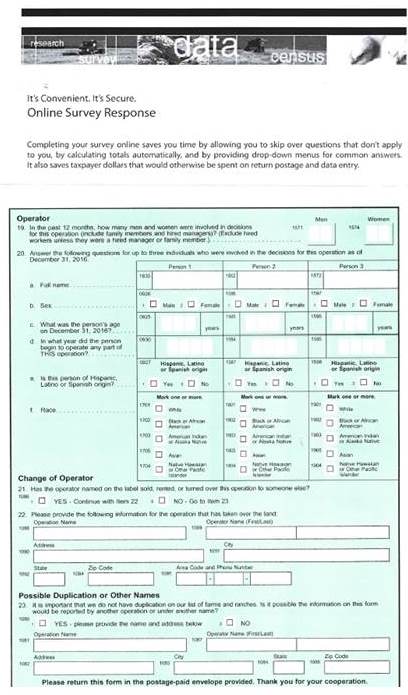 In addition to Christmas cards, farmers and ranchers in Florida received the National Agricultural Classification Survey (NACS) in December 2016's mail.  This questionnaire will assist the U.S. Department of Agriculture to identify active farms and ranches in the United States, in preparation for the upcoming Ag Census.
The result of the NACS will determine who receives a census of agriculture questionnaire in December 2017. The census of agriculture is conducted every five years by USDA's National Agricultural Statistics Service (NASS), and is the basis for uniform, comprehensive, and impartial agricultural data representing every county in the nation.
Through the census of agriculture, producers are able to establish the value and importance of agriculture, and influence decisions which will shape the future of the industry in this country. The reporting deadline for the NACS is January 30, 2016.
The census of agriculture is the leading source of data about domestic agriculture. Farm organizations, businesses, government decision-makers, commodity market analysts, news media, researchers, county agents and many others utilize census of agriculture information. It ensures every farm and ranch is represented.
The census of agriculture defines a farm as an entity which produces and sells, or could sell, $ 1,000 or more of agriculture products within a given calendar year. The NACS is required by law, as part of the census of agriculture. Under this same statute all information reported by individuals is protected.
For more information about Ag Classification Survey, and the 2017 Census of Agriculture, visit: