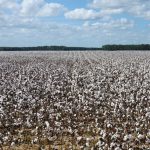 Variety selection can play a large role in the management strategy of a crop, as well its yield potential. This year in Jackson County, UF/IFAS Extension collaborated with Bishop Farms for an on-farm trial.
Fifteen cotton varieties were planted side by side to monitor season long performance and yield comparisons at harvest. The trial was defoliated on October 1st, and the morning of Tuesday October 10th growers are encouraged to visit the trial and see the varieties in person. Extension Agronomists David Wright, Ian Small, and Regional Crop IPM Agent Ethan Carter will be in the field from 10-11:30am (CST) and available to discuss the varieties and crop performance with those who stop by with questions as they view the different varieties. Plot maps will be provided and each variety will be marked with signs.
The field is located at the intersection of Sweet Pond and Paramore Road, the address is 6701 Paramore Rd, Sneads, FL 32460. Please contact Ethan at the Jackson County Extension Office (850-482-9620) for any questions, or 352-221-0580 the morning of the tour, if you have trouble finding the location of the tour.