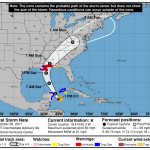 September was an unusually dry month across much of the Panhandle, considering we were all watching Tropical Storm Irma so closely.  You can see the red streaks where the outer-bands of Irma swung around on the eastern part of the region.  Leon, Liberty, Gadsden, Jackson, and Holmes Counties did get a boost from Tropical Storm Irma rainfall bands( red 5-10″), but most of the region was well below average for the month of September.  Escambia and Santa Rosa Counties were much drier than normal,  with some areas receiving less than 2″ (green) in September.
All six of the Florida Automated Weather Network (FAWN) stations in the Panhandle recorded below historic average rainfalls for September 2017 (-0.5″ to -4.7″).  Jay was the driest location with only 0.8″ for the month, while 3.8″ was the highest total recorded in Marianna.  For the entire year however, the Jay station still has the highest total of 53″, while only 37″ of rainfall has been recorded in Monticello in 2017.  Through September, Monticello is 10.6″ below average thus far in 2017.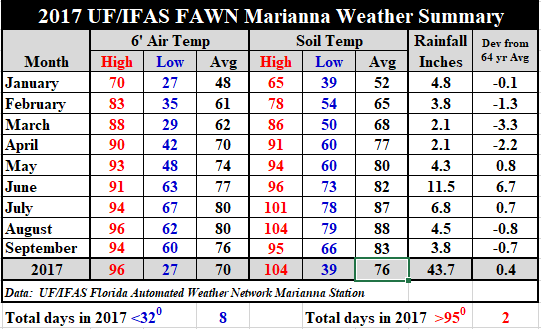 Temperatures did cool off a little in September.  The average air temperature dropped from 80° in August to 76° in September.  The average soil temperature dropped 5° from 88° in August to 83° in September.  The high temperature for the month was 94° on September 28 & 29.  The low was 60° on September 10, 11, & 12.  For a complete summary of daily temperatures and rainfall, download:  2017 Jan-Sept Weather Summary.  
Short Term Outlook for Hurricane/ Tropical Storm Nate

The major weather news this week is Hurricane Nate.  This was one of those storms that just seemed to pop up, rather than a long track streaming across the ocean.  Early preliminary forecasts placed the center of the storm track right through the heart of the Panhandle.  The current Forecast track is further west, but the western Panhandle Counties may well have some impact from this storm.
Nate is expected to be a much weaker storm than Irma was, but there will be significant rainfall right at the peak of peanut and cotton harvest.  Most of the state of Alabama will certainly be affected, as well as the western Panhandle Counties in Florida.  Farmers in Okaloosa, Santa Rosa, and Escambia Counties can expect 2-4″ in the next 72 hours.
Wind may also be an issue, especially in western most counties of Florida. There is a pretty high probability of at least 40 mph wind gust across Escambia, Santa Rosa, and Okaloosa Counties.   Between the wind and rain, there are going to be cotton fields damaged that have yet to be harvested across the cotton belt.  For preparation tips for your farm review: Hurricane Preparation for Your Farm
Last Quarter Weather Outlook
The seasonal forecast for the last quarter of the year has changed considerably since last month.  The Climate Prediction Center (CPC) has officially issued a La Niña Watch, which would  mean warmer and drier than normal weather for the Southeastern states.
Over the last month, equatorial sea surface temperatures were near-to-below average across the central and eastern Pacific Ocean.  The most recent predictions from the NCEP Climate Forecast System indicate the formation of La Niña as soon as the Northern Hemisphere fall 2017.  Forecasters favor these predictions in part because of the recent cooling of surface and sub-surface temperature anomalies, and also because of the higher degree of forecast skill at this time of year. In summary, there is an increasing chance (~55-60%) of La Niña during the Northern Hemisphere fall and winter 2017-18.  Climate Prediction Center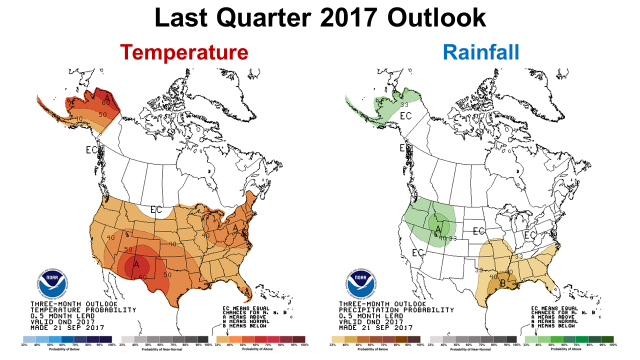 The CPC's graphic 3-month outlook above reflects their changes in expectations from a coming La Niña .  This latest forecast may also mean another mild winter, which is not good for reducing insect population such as white flies, thrips and other key crop pests.
The AgroClimate fact sheet,  Impacts on Agriculture of the El Niño Southern Oscillation (ENSO) in the Southeastern U.S., provides some guidance on how the two ENSO phases ( El Niño/La Niña) affect crops of different types.  For irrigated winter vegetables, the warmer and drier weather can be positive with less cold damage and less fungal disease pressure.  For cool-season forages this may not be a good year to invest in overseeding of perennial pastures, and instead focus on open land behind annuals crops with less competition for moisture.  Depending on how strong the La Niña influence is and how long it persists, dry conditions could delay planting of early spring dryland crops such as corn, melons, and annual warm season forages.